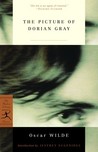 The Picture of Dorian Gray by Oscar Wilde
My rating: 4 of 5 stars
Dorian Gray is a beautiful youth. After having posed for a portrait by his artist friend, he realises that the painting will always remain his perfect image, whilst his own body ages and dies. He declares that it should be the other way around. Slowly Dorian realises that inexplicably his portrait changes over time, whilst he appears to stay the same. Years pass as Dorian goes from one obsession to another, experiencing all that life has to offer. Friends and acquaintances come and go, and ultimately shun him once they have left his company. Dorian eventually resorts to extreme measures to keep his secret from others, but it's not enough. Ultimately his attempt to destroy the painting, also destroys himself.
This is a curious period-piece of literature. Focusing almost entirely on Dorian's relationships with his earliest friends, Basil and Lord Henry, the extreme life that Dorian leads is mostly inferred. With the exception of one or two scenes which are described in detail, you are expected to only imagine how badly he behaved when corrupting his other acquaintances! Presumably why they can neither look him in the eye, nor speak to him when they subsequently cross paths..
It's no wonder the character and this story has been adapted and re-played over the years. Dorian Gray continues to intrigue as much today, as he did then.
Click the image to buy a copy on Amazon.co.uk: